With this post, we wanted to go ahead and share with everyone a few new things to help you make the most of your scroll saw. If you've recently purchased (or plan to purchase) a new scroll saw, you're probably curious about a couple of things:
Where do I start?
What else will I need in order to craft better items?
First of all, I want to congratulate you for making the decision to get into this rewarding, fun hobby! It's a great way to pass the time, inspires us to better our work, keeps us busy, allows us to make our very own decorations and custom gifts for friends… the list just goes on.
Now, we wanted to show you what most projects will require, so that you can dive right in, without having to worry about missing something. To make things nice and easy, we compressed that information into the following infographic:
(click to enlarge)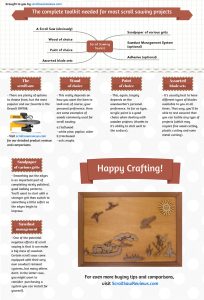 Beyond that, you will (of course) need a pattern to follow along. I didn't include that in the infographic, because it's not mandatory in the sense that you could technically just design your own (if  you prefer doing that). At some point, however, I do think most people will look at other patterns, at least for inspiration. There are plenty you can find online (both free and paid), so you'll have a lot to explore with before and after you get into the real work
If you want more extensive info, have a look at our hub, here: Scroll Sawing for beginners  – what you need to know. We talk about a few things that will  help you get started, such as:
– How to choose your scroll saw;
– What you need to know about scroll sawing;
– Where to look for patterns and inspiration;
– Where to learn more advanced scroll sawing techniques;
– And finally, watch a set of useful scroll sawing videos to get you started.
Happy crafting!