The Dewalt DW788 scroll saw is manufactured by the Canadian company Somervile Design and is among the most preferred scroll saws in the market currently. Targeted primarily to the hobbyist and semi-professional, this is a machine on which you can work on for a good number of hours every day. It is largely used for moderately styled cutting.
What Makes DEWALT Scroll Saw a Great Machine to Have?
What we would really appreciate about any machine is being able to set it up instantly and use it. It's often the best part of getting a new product. DEWALT DW788 1.3 Amp 20-Inch is designed such that it may be set up quickly on the cast table and put to use. The table has a single hole, and not too many inserts making the set-up a simple process.
The blades may be changed in a few seconds and setting the tension on them is simple as the control is placed right in front. Having the flexibility of moving your project around to get the right angle is a plus point. And this scroll saw is a perfect fit since it provides you with a movable top arm. This allows you to get your project on and off the table with ease.
A very steady workspace is what you get from this machine as the forward and the rear blades are immovable. Your wood will never burn and you can get your cutting done slowly with precision. The blades of a Dewalt scroll saw will have a longer life span giving you a long term benefit.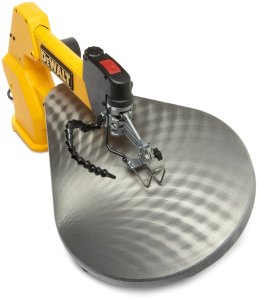 The construction of this machine lays emphasis on very strong bearings which make this a heavy machine. This ensures that you have close to no vibration at all, even when the machine is working at full strength. It is also quiet, ensuring that the neighbors have nothing to complain about.
In terms of usage, this is the perfect saw for intarsia as well as fret work. If you are planning on introducing somebody to the joys of scrolling, then this would be the perfect machine to do that on. It is easy to handle thanks to features such as the on-off switch, the electronic variable speed as well as the arm design pivots which allow you to easily manipulate the arm so that you have a smooth operation when experimenting with it. The ability to adjust the tension of the saw when the blade is running gives you an upper hand when you are working.
What Do You Get from Your DEWALT Scroll Saw?
The product comes with a cast table and 2 blades. It may also be mounted on a workbench, but the stand gives you great mobility and you will not want to mount it elsewhere. The machine is in the $500 category and this varies based on the kind of accessories you purchase along with it.
This saw is ideal for start-up businesses and for hobbyists who plan to professional in a while. It is a machine that can give you years of pleasure and some great projects to be proud of.
Conclusion
The Dewalt DW788 is by far the best scroll saw machine for the money out there and the best-selling scroll product you can find online. This scroll saw is available at Amazon. It may seem to be an expensive investment at a first glance, but the machine makes every penny count. If you are on a limited budget, you can also check out other great options at affordable price.
Watch the video below to check out more features of the Dewalt DW788

You can view a comparison table of all the top saws by clicking here.