The WEN 3920, like many of the saws in its class—low-level scroll saw—competes in price and features with most other saws up against it. And yet, no one is selling it. Let's break down the main features, some strengths and weakness, and see where this "rare" saw stacks up against the competition.
Scroll Saw Reviews has multiple reviews for the 1.2-1.6 Amp 16" class. (See here, or here, or even here.)
The company's (WEN) website brags, buyers get "full control" over their "designs and creativity." There are indeed some reviews out there, but none quite so glowing.
In terms of price, this saw falls on the low end of the range which is perfect for beginners and hobbyists.
The 3920 has one of the best price tags in the market. Only the Ryobi 16" challenges the WEN in price. So, in theory, you're getting a great price for this entry-level saw.
But just how much cut are you getting for your cash?
The saw actually measures up well: with variable speed, a 16" x 10" table, a cast iron build and an air pump all on-board.
The stroke range comes in at 400-1600 strokes per minute. That's a nice range for a variety of cuts, but some of the more expensive saws in this class demonstrate that 400 is a little low—ranging from 500-1700 instead. It really depends on the types of projects and materials you plan to use.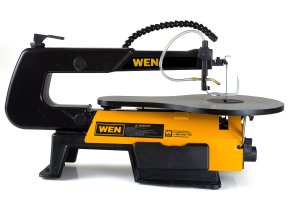 Adjusting the speed isn't too much of a hassle either. The speed knob sits on the front of the saw which keeps your hands and arms out of your sight-lines.
The table has a completely acceptable amount of room for some scrollers. The 16" x 10" space works well for smaller pieces. Some larger cuts may require a larger table. In addition to an open table, the saw gives you 45 degrees of tilt. This is only to the left. Not a bad thing, but the Genesis will give you 15 degrees of right tilt.
The throat depth is on par with in-class saws. The 16" throat depth makes handling and cutting larger pieces easier. In fact, the company website brags that this saw can "easily cut" wood pieces as thick as 1.9 inches. Being able to cut more materials (i.e., thicker woods) means more projects for you!
The stroke is great for entry-level saws at 9/16". With a better stroke length, cutting is less about force and more about finesse.
And, like most other scroll saws, the blade holder will accept both pinned and pinless blades. The saw comes with an extra blade and the wrench needed to swap them out. Warning: Some owner's comments mention weak blades.
What about vibrations?
The saw is cast iron, which is as heavy as most saws in its class: 28 lbs. In fact, on average this class weighs almost exactly 28 lbs. There is reduced vibration at this weight, and less movement adds to your precision; but it also just makes the whole job easier.
The cast iron frame has two bolt holes for mounting. A mount always helps reduce vibrations, and more than almost all free-stands.
For getting projects "un-stuck," the tension release switch sits on top of the saw: easy to reach and operate.
AIR
The saw is fitted with a convenient air pump above the cutting area for clearing away saw dust. Keeping the table clear and a clear line of vision is no small task otherwise!
The air port (1.5") is situated on the front of the saw, under the table. The port can connect to your shop vacuum to clear out debris and keep your space clean
Extras
The saw does include a clamp for keeping your piece secure during cuts. There is also a flexible work light.
Although the saw is not for sale on the company's website, they do seem to offer a 2-year warranty. And I'm sure somebody is taking advantage of their help hotline. It's available with the purchase of this saw, too.
PROS/CONS
Pros
400-1600 spm
16" x 10" table
Cast Iron for reduced vibration
16" throat depth
Fits pinned and pinless blades
Air Pump and Dust Port
2-Year Warranty
Cons
Almost impossible to find for sale online
Reports of weak blades
Here's a quick video from WEN, showing how the saw can be used to create a neat little wooden cup.
In the end, the saw seems to be a comparatively good value for its price. It has all the features that new scrollers, looking for an entry-level saw would want to get started and explore the craft. The only downside is that you may not ever get that chance.
Thanks for reading!