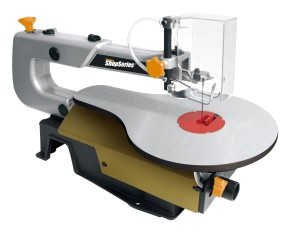 One of the best things I love about the Rockwell RK7315 Shop Series 16-Inch Scroll Saw is that it is lightweight, making it easy to move around. It offers you varying table bevels from 0 to 45 degrees enabling a flexibility that is not seen in any other models of the same caliber.
The highlight of this machine is its ability to turn its blade head at 90 degrees, giving you slightly more flexibility in cutting. This flexibility is often more than you can get with other such 16" blade saws.
Interesting Features Worth Checking
The variable speed knob and the angle adjustment options make it a product that is best suited for a wide range of woodworkers. The mid-range speeds offered by the machine give you the ability to cut through a range of wood right up to 3/4th inch pine and ½" of birch.
This saw is brilliant for beginners who want to get a feel for woodworking. With the machine set up, and a few instructional videos online, you will be able to make the most of it. The speed control is designed such that it gives you tight inside cuts – not an ability you often see with other scroll saws.
The overall design of the machine is such that it is light. This works well for those who are just beginning and who are not going to work on too intricate detailing and sawing. The changing of blades is simple thereby reducing the complexity that is sometimes part of handling such machines.
A trick to making blade changing at the bottom easier for you is to remove the cover, giving you more space to work with.
To make it easily portable you could bolt it down to a board base which you then clamp down on your work bench, wherever it may be. When you are not using it, it easily settles down on your shelf giving you more working space in your workshop. Such flexibility of use is not something easily found in other models.
For simple woodworking and for those who are just starting out, this is considered one of the best lower-end models of scroll saws. A little care in how you set up and manage the whole machine will make all the difference.
Cons
The instructions do not mention that cutting anything more than 16" will require the blade to be placed perpendicular to the arm. It however does and this is a detail you have to keep in mind
You will find some vibration at 1500 spm
Vibration of parts, especially when the machine has been in use for a while is common
More Details and Pricing of the Rockwell Scroll Saw Can Be Found on Amazon
You can view a comparison table of all the top saws by clicking here.