Affordable Scroll Saws are always welcome and the Proxxon 37090 DSH/E Scroll Saw is among the best and most versatile scroll saws today. It is ideally suited for those interested in working on antique restoration, the creation of architectural models, creating designs and toy making as well.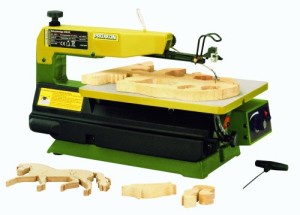 Anything to do with precision mechanics, the building up of models and saw relief projects can be handled by this machine. Proxxon 37090 DSH/E is just the perfect machine to begin your workshop training with. Most other models in this category will not be able to offer the versatility that this machine does. Carpenters too find that they are extremely comfortable with this saw.
A machine of this caliber may be expected to be a little noisy when it is being operated, however you will find that even at full throttle it operates silently, making it an ideal machine to have in your home workshop as well. No worries about the neighbors complaining of being disturbing.
Benefits and Features
One of the key benefits of this machine is the silence it functions in. Most other machines from leading brands and of the same configuration cannot offer you that level of silence. Working with this machine can thus be scheduled at any time of the day.
Almost any task you set out to do will be completed efficiently thanks to the 5 fine saw blades that are provided with the machine. The fast tension release mechanism will allow you to work on creating multiple rapid cuts on the inside of your wood project, with precision.
The machine also come equipped with a vacuum adapter giving you a clean working space at every given point. You will not have to put in a lot of effort to cut through any form of material. The settings for precision cutting are different yet convenient.
Thanks to the sharp blades of the machine, the cutting efficiency of this model is high and the output produced is always commendable.
If you like to craft things and create unique gifts for friends and family, then this saw is going to a good addition at your work station.
Cons
Most people find the initial assembly a bit difficult to handle
The blade guard is not really up to the mark
Changing non-pinned blades in this machine can be tedious
The long tube of the blower can come in the way when you are working at times
This tool can be found on Amazon Check out the latest pricing.
Check Some Information of Proxxon 37090 DSH/E Scroll Saw on Amazon
You can view a comparison table of all the top saws by clicking here.