Here is a machine that belies its small size. For woodworking enthusiasts and hobbyists, here is a machine that can saw curves that are quite tight. It also works on paring off and slicing thin pieces of wood.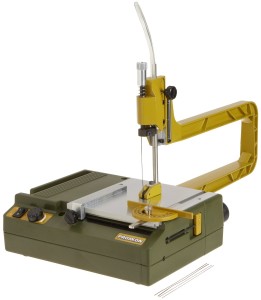 If you are working on multiple stacks of wood to create fretwork patterns, then this is the machine for you. Marquetry enthusiasts and Intarsia fans are going to love the abilities of this little machine. This is a machine that works really hard and will surprise you by becoming an indispensable part of your workshop.
Benefits and Features of Proxxon 37088 Scroll Saw
For all of its abilities, the Proxxon 37088 Scroll Saw is a machine that is compactly built and will not take up too much of space in your workshop. This can be a blessing for those of you who function with minimal space to spare.
The quality of blades with this machine is unbeatable and ensures you to have the best cut possible. These cuts are sharp and as fine as it can get. An ability not easily managed by other models. You may cut through soft and hard woods with equal ease. Fiberglass as well as plexi-glass yield easily to this machine. In fact, most non-ferrous metals do.
Interior cuts have to be done with a high level of accuracy and this little machine may be manipulated to get the best out of cut. If you are looking for machine that can handle small and delicate projects, this is the machine for you.
Its head makes way for a 3-position adjustment ensuring you get a good level of flexibility when working. Using the head in the lowest position with the shortest blade gives you the best of precision cuts. Since powering is such that it may work for long hours with no trouble at all.
The machine works silently and efficiently even on high throttle. The blowers are situated on the blade guide ensuring that you have a clean working space throughout. It is also equipped with a vacuum cleaner adapter which is an additional way to keep your workspace clean.
When it comes to light cutting, this is the machine to turn to. In fact, using it with the foot pedal gives you added versatility.
Cons
It can get difficult to assemble
It is not speed heavy and therefore can be used in moderation only
Its maximum limit in terms of wood cutting is 2 inches
A few number of inner cuts are done with precision, while too many of them may not come out perfectly
More Info – Find this Proxxon 37088 on Amazon
You can view a comparison table of all the top saws by clicking here.