This Genesis scroll saw is among the easiest ones to work with. The foot on this model is designed such that it is more level than most other models in the category. It has a beaded flexible air hose which may be placed anywhere you need it.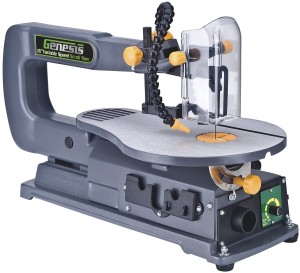 The table is of cast aluminum and the construction strong. The machine is made up of stamped steel for many parts. The entire set-up makes for a comfortable scroll saw working station especially if you are regularly going to be working on low speed products. This machine is perfect for 1 to 2 inch wood thickness.
Features of Genesis GSS160 16-Inch Scroll Saw 
One of the primary features sought out in a scroll saw is its tilt mechanism. The one on this Genesis model is far superior in terms of cleanliness compared to other models. The miter-gauge too is very easy to read. Ideal features to have if your workshop is dimly lit or your eye-sight is not 20/20.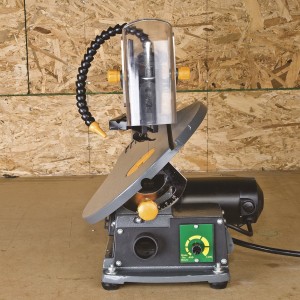 It is fitted with a 1.2 AMP Induction Motor which assures a quiet performance. This feature is useful if you have a workshop that is within your home and you are required to tone down the noise levels as you work.
The variable speed on this machine allows you to match the tempo with the thickness and density of your wood. Such flexibility makes work easy and helps with accuracy. It functions on a variable speed of 400-1600 SPM.
While the blower on scroll saws is generally used to keep the work area clean, the blower on Genesis GSS160 16-Inch may be used to keep the cutting point dust-free as well. Not a feature you find in many other models.
A commendable feature in this machine is the ability to use both plain end and pin end blades for your work.
The overall working mechanism of this saw is such that it works with a simple touch of the hand. This is especially good for senior citizens who would prefer not using too much physical strength when working.
Cons
A table of cast iron instead of aluminium would have been sturdier
Vibration tends to be higher with increased speeds
Fasteners have a tendency of flying off, increasing the chances of injury
Why Should Consider Investing in It
This is would be the ideal machine to invest in, if you are a beginner woodworker and would like experience in creating projects using lower speeds. Children may also be taught on this machine, but with adult supervision. Though the construction is not high-end, it provides you value-for-money till you are ready to graduate to a higher-end model. It is perfect for senior citizens who may have some trouble working with machines that require a lot of muscle power.
The good part about this scroll saw is that it may be rigged to take on different kinds of materials and density of woods. All you will need to do is invest in blades with varying TPI. The best time to do this is when you are comfortable with the machine and are ready to take it one step forward.
The fact that it comes with a two-year full warranty is also a great way of knowing that should something go wrong, it will be attended to.
CLICK THIS LINK TO CHECK THE PRICING OF GENESIS SCROLL SAW ON AMAZON
You can view a comparison table of all the top saws by clicking here!