The Dremel MS20-01 Moto-Saw Variable Speed Compact Scroll Saw, more popularity known as the Dremel Moto-Saw is a smart cutting tool, best suited for woodworking hobbyists and crafts-persons.
A simple description of the product would be that it is an electric coping saw that comes with a base. This may be clamped onto your work table or may be stowed away when not in use.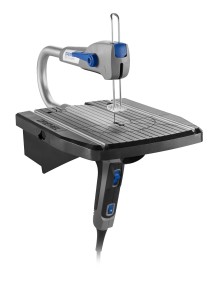 It is also helpful for those who enjoy working on DIY projects. Its most popular feature is the ability to use it as a stationary scroll saw as well as a mobile one. All you need to do is press a button for the conversion to take place.
It is a compact machine and light, making it easily portable. It is great for use in adding to the design structure of your home and for simple woodworking projects.
As a brand, Dremel is the pioneering creator of the high speed rotary tool decades ago; the name evokes a sense of security in terms of quality. It is on this same tradition of excellence that the Moto-saw has been created.
Features of the Dremel Scroll Saw
One of its main features, something other brands cannot boast about, is that it incorporates two saws into one. It is a scroll saw and a mobile coping saw. A simple press of a button helps it transition from one to another. It is equipped with 4 blades that allow for a high level of accuracy in cutting. It may also be used on a variety of materials from timber to laminate to plastic as well as slim metal.
The construction of the saw is slim and ergonomic. It is also lightweight making it portable. Working indoors or outdoors will not be a problem with it. This in fact is one of the highlights considering that most other models in the category cannot offer you such flexibility.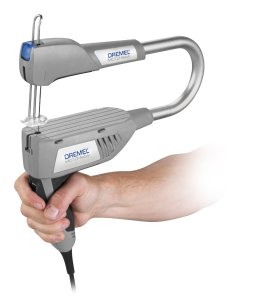 It is also a tool that is easy to use. It has a single attachment which can take on up to 10 Dremel accessories making it a flexible machine to work with. All of the accessories are neatly packed into a case so that you never lose track of them.
Its flexibility also lies in its ability to deal with multiple materials – from composite boards to PVC and acrylic as well as foam and carpet and more. No other machine can help you do so much.
Cons
The blade tends to vibrate a bit reducing accuracy of cuts
It also accepts only a specifically design blade with pins. They have to be 4 inches long with only 3 inches of teeth
Attaching the blades can be difficult until you master it
Why you should consider investing in it:
The Dremel MS20-01 Moto-Saw Variable Speed Compact Scroll Saw is perfect for those who like to make things for their own home out of a range of materials. It is ideal for the hobbyist and the DIYer. It is also easy to work irrespective of whether you are an amateur or an experienced woodworker. The flexibility of the machine gives you a chance to take it outdoors or onto site as well, if you happen to be helping a friend with a project.
Click this Link to Read More Reviews of Dremel MS20-01 Scroll Saw
You can also view a comparison table of all the top saws by clicking here.