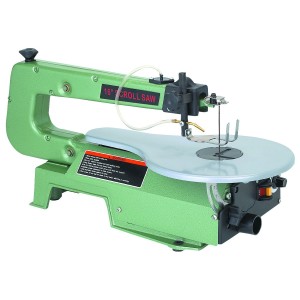 If you are looking for a budget scroll saw, the 16" variable speed scroll from Central Machinery is what you should be looking at. Despite its competitively low pricing, it does offer you value for money.
It has a stable base which has the ability to tone down the vibration. It functions with both types of blades, with the help of add-on clamps. This scroll saw comes with a fairly functional blower and a shoe.
Don't be fooled by the speed surges that you will see in the beginning. This is what you may consider starting trouble, and it easily fades off after a while. A way in which the brand saved on high costs is with the use of stamped steel for the table, as against the cast iron or aluminum that is normally used. This does not change the stability of the model in the least since it has a cast iron base.
Benefits and Features of 16" variable speed scroll
One of the key benefits of the 16" variable speed scroll from Central Machinery is its ability to cut intricate curves and designs fast with precision. This is an ability largely found in higher-end models. You may even use a 5" scroll saw blade to cut designs within a project, by removing and re-inserting this blade in a hole that has already been drilled into the design.
The unit comes with an integrated air bellow or blower that keeps your entire project clean and well maintained. Compared to even higher end models, the efficacy of this blower is much higher. The bench also comes with adequate holes to allow for quick and simple mounting, allowing the machine to be hooked up for use faster.
16" variable speed scroll functions on variable speeds ranging from 400 to 1600 strokes a minute giving you a spectrum of work speeds. It has the ability to cut through wood that is 2" thick, which is more than what other models provide you with. It provides the flexibility of working on bevel cuts as the table tilts 45 degrees left – a feature you don't see too much in other models.
Cons
Though it can cut through 2" wood, this may be done only with a 10 TPI blade which is not a part of this set
With time the blower tends to lose its ability to function effectively
For Whom Is it For?
This saw is perfect for those who are just starting out and would like to test the waters. It's easy on the pocket compared to other models with similar features and gives you a good deal of service.
Conclusion
This is a good choice as a starter saw for beginners.  This item is not always in stock since most of starters are aware of the great features this machine offers, you may have to wait until the item is available.
CLICK THIS LINK TO CHECK THE AVAILABILITY OF 16" VARIABLE SCROLL SAW
You can view a comparison table of all the top saws by clicking here.