Modern scroll saws are electrically powered and are generally used to cut out detailed shapes in wood.
There are a range of other materials that may be worked upon, depending on the model of saw you use. An integral part of a scroll saw set-up is that of the stand that it is placed on.
Using this has several benefits such as providing strong support directly below the saw to prevent any vibration.
The stand also helps elevate the saw to a comfortable level, giving you better accuracy while working. While it is ideal to use a company provided stand for your saw, you may even consider custom-making a stand for your needs.
Here is a look at some of the popular scroll saw stands that I have found:
1. DEWALT DW7880 Scroll-Saw Stand:
This is a lightweight, all-metal stand with adjustable legs.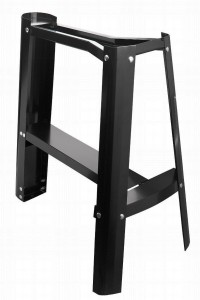 Pros
It's the perfect stand when you do not have much bench space
Its construction makes clean-up easier
The bolts in the legs helps you fix it to the ground for a sturdier grip
Gives you working space around the front and side of the saw
It can be easily assembled
Cons
At times the horizontal braces between the two legs do not align
A number of smaller parts like the nuts and bolts can be overwhelming
The adjustable vertical foot on the rear leg may be confusing as to its function
CLICK HERE, TO SEE THE LATEST PRICING FROM AMAZON
This stand comes with a butcher block finish and a sturdy design reducing vibration.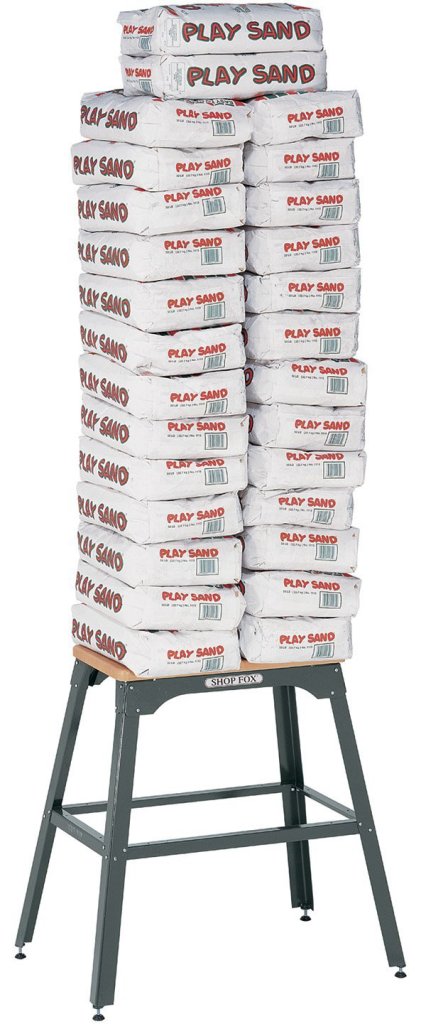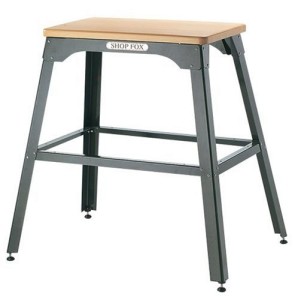 Pros
Once assembled the stand is very sturdy
It takes on heavy loads of up to 500 pounds
The metal parts are straight with no rough or pointed edges
Ideal for a disc sander
May be enhanced with roller wheels to make it mobile
Lightweight despite being sturdy
Adjustable feet to mould to your working style
Cons
The butcher top is not real wood, but compressed hardboard with wood grain paper – not too impressive
The work top tends to develop cracks quickly
Very labour intensive to assemble
Click Here to Buy the Shop Fox Table Stand at Amazon.com
3. Universal Tool Stand Grinder Lathe Mitre Scroll Saw:
This saw comes with complete metal construction and a good fit generally for scroll saws, bench drill presses as well as miter saws.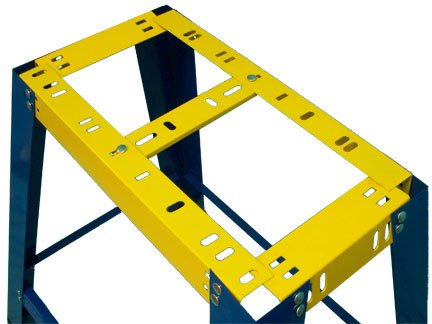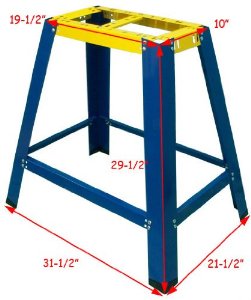 Pros:
The product may be assembled quickly allowing you to get to work fast
It comes with rubber feet so as to protect the floor from scratching
Great for use with a basic scroll saw or miter saw product
Cons
The top is not actual wood, but rather compressed wood which is not as strong
The overlapping pieces do not fit together snugly
A tendency to rock a bit increasing the chances of a large project going haywire
Click Here to Buy the Universal Stand Grinder from Amazon
 Conclusion
Choosing the right stand depends a lot on your scroll saw. By balancing between the pros and cons you will be able to select the perfect stand to match with your scroll saw.
You can find these scroll saw stands on Amazon. I love Amazon because they are reliable and provide great customer support. And with them – you avoid the hassle of looking for woodworking stores, finding deals and renting trucks to have the items shipped to your house.
Don't forget to check out our comparison table of all the top saws.  Size each saw up next to it's competition and make the best decision.