To put it simply, the Shop Fox W1713 is awesome.
Considering how most of them are in the premium bracket, this particular model is value for money. It comes with an impressive cast iron table and base.
It works with both pinned and plain blades, a feature we don't normally see in saws in this price bracket.
It comes with a gauge that helps in setting plain blades. This is placed on the upper arm. The fixed dust blower though small, does its job well.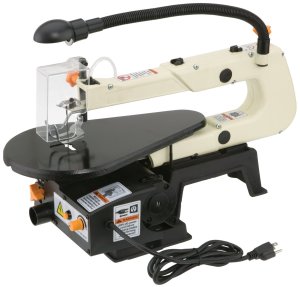 It also comes equipped with a gooseneck lamp that is very handy. The pin clamps and foot that it comes equipped with are fairly universal to most models. Perfect.
Why do folks love the Shop Fox W1713 16-Inch?
Compared to competing models the finish of this product is much smoother and the paint job is excellent. It provides you with several gadgets normally associated in other high end models.
This makes the unit perfect to invest in even for the furniture-making professional, who will get all that he requires at a reasonable price.
It cuts through a range of woods – soft to hard without too much of an effort. Thick hardwood to pinewood that is at least a quarter inch thick, this scroll saw simply works wonderfully.
Another plus point with this model, especially when compared to others in the same category is that for smaller projects it doesn't have to be bolted down. It remains steady throughout.
Material Construction:
There is only one plastic element in this entire saw, with all other parts being made of steel, cast iron or aluminum. No other machine in this category can boast of such construction. It is a quiet machine even when working on full throttle.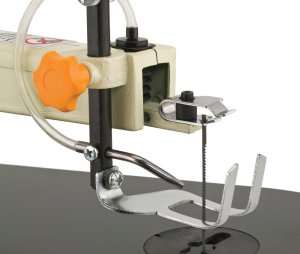 To get the best out of the saw, it would be ideal to use nothing more than ½ inch wood for cutting. Always check all the fasteners as there is a chance of them turning a bit loose with time. Taking the trouble to readjusting the hardware to suit your style of working will give you the best that this machine has to offer.
Cons of this Scroll Saw
The quick change of pinless blades is misleading. The process is a little time consuming until you master it
If you are used to powerful machines, you may find this motor slow, even on full mode
Some of the table fixtures may come out loose making the table a bit unsteady when you are working
The motor tends to overheat and will not start again till completely cool
This saw is great for amateurs and semi-professionals in woodworking. Click here to See Latest Pricing.  If this scroll saw doesn't work for you, be sure to check other options here.
Click Here to Check out Customer Reviews of the Shop Fox W1713 16 inch on Amazon
You can view a comparison table of all the top saws by clicking here.